BrutalityWatch: Articles
Long Beach Police Shooting of Unarmed Man Captured on Video
The shooting by police of an unarmed man in Long Beach over the weekend was captured in a shocking video (on the next page). The man is hit with gunfire multiple times as he descends stairs to a beach, as nearby restaurant patrons watch in horror. The cops' actions might have been a case of mistaking friendly fire for a shootout. L.A. County Coroner's Assistant Chief Ed Winter identified the man as 36-year-old Jason Conoscenti, who was pronounced dead at a hospital Sunday…
(April 2014)
#MyNYPD Twitter Campaign Backfires Big Time, Spreads Worldwide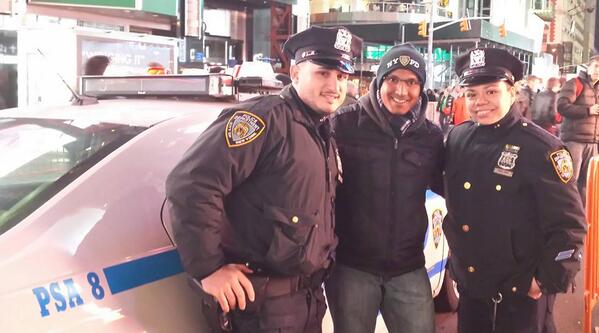 This week, the New York Police Department learned the hard way that social media campaigns can backfire if not properly thought-out, and now users around the world have taken a cue and started their own hashtags calling out the LAPD, Greek and Spanish police and even Mexico's law enforcement on their sometimes brutal tactics.

On Tuesday, the NYPD social media relations team believed it had devised a brilliant plan to lift their public relations persona. They started the hashtag #MyNYPD and asked people to submit photos of themselves with officers…
(April 2014)

Police Accused Of Using Excessive Force, Pepper Spraying UMass Amherst Students (VIDEO/PHOTOS)
Students at the University of Massachusetts-Amherst say police used excessive force including high-powered pepper spray when officers attempted to break up parties during Blarney Blowout Saturday.

The annual Blarney Blowout, a pre-St. Patrick's Day gathering, is a tradition that dates back to the 1970's in Amherst. This year, however, it resulted in riots and violence with police arresting more than 70 people…
(March 2014)
Chicago Police Cannot Keep Complaints Of Brutality Secret Anymore, Court Rules
The Chicago Police Department has long kept its records of police misconduct secret, even as the city continues to pay out millions to victims of brutality. Now, after a state appeals court ruling, the department will have to release that information as public records.

The CPD tried to withhold complaints of misconduct from a journalist, Jamie Kalven, who filed a Freedom of Information request for the records of five officers. The appeals court determined these files count as public records. A lower court will decide whether the department can still black out sensitive information like cops' names and phone numbers.

The decision could be transformative for Chicago. Civil rights activists and attorneys may now be able to identify and sound the alarm on cops with a record of abuse, such as the CPD officer who recently ducked criminal charges for shooting an unarmed man 16 times — his third shooting in six months. In response to questions about why the officer was allowed to remain on the streets after so many shootings, the police superintendent said the department had no way of tracking officers' records.
(March 2014)

Plaintiff in Police Lawsuit Is Ordered to Pay New York City's Legal Fees

Initially, the case sounded reminiscent of the police brutality scandals that have haunted the New York Police Department for years. A young man returning from celebrating his birthday at a Brooklyn bar had a tart exchange with two police officers, who he said then handcuffed him and slammed his head onto the hood of their car.

The man, Andrew Abeyta, a Columbia University graduate who worked as an environmental consultant, would later claim that the encounter had left him with life-altering brain injuries that prevented him from working, looking at a computer screen or even leaving his apartment for long periods.

He sued the officers and the city, requesting over $12 million in compensation.
(March 2014)

South Africa: Police Brutality Must Never Be Tolerated

Press Release

The incident apparently took place on Riebeek Street in the CBD yesterday morning at 8am. The two police officers are seen in the video removing the man's clothing until he appears to be naked and after which officers punch and kick the man in his groin area repeatedly… This man has been assaulted, publicly humiliated, his dignity has been violated, and several of his basic human rights were violated. There is no place in a civilised society for this kind of brutality, and I applaud the brave members of the public for speaking up about this incident. We must never tolerate police brutality. The police are there to protect us, and if they fail to do so, we must speak up.
(March 2014)
No Indictment for Dover Officer Accused of Police Brutality
A Kent County grand jury has decided not to indict a Dover police officer accused of police brutality.

As reported last week, Cpl. Thomas Webster had been suspended with pay after allegations that he used excessive force. The suspension was the result of an incident that occurred in August, when Webster was called to the scene of a fight that occurred at a gas station. Lateef Dickerson claimed Webster used excessive force during the confrontation.
(March 2014)
Jury rejects excessive-force claim in fatal Anaheim police shooting
A federal jury rejected claims of excessive force Thursday in a case of a fatal shooting by an Anaheim police officer that led to riots in the city in 2012.

Genevieve Huizar sued the city of Anaheim and Anaheim police officer Nicholas Bennallack after her son, alleged gang member Manuel Diaz, was fatally shot on July 21, 2012. She was seeking $3- to $5-million in damages.

Diaz, 25, was unarmed when he was shot outside an apartment complex. Officers said he failed to heed orders and threw something as he ran away. Diaz had a criminal record. The next night, suspected gang member Joel Acevedo was fatally shot after a pursuit.
(March 2014)
Oklahoma father dies in police encounter after mother slaps daughter
It was supposed to be a fun family outing to the movies, but Nair Rodriguez's 19-year-old daughter got under her skin. They fought, she said, and she slapped her daughter.

Moments later, police arrived on a domestic dispute call at the Moore, Oklahoma, theater and did not confront Nair Rodriguez but rather her husband, Luis. They took him down, and after the encounter on February 15, he was dead.

Cell phone video taken by Nair Rodriguez and released this week shows the final minutes of the takedown.

Nair Rodriguez accuses officers of brutality. Police say they were following protocol and used no undue force, although three officers have been suspended with pay.
(February 2014)
Protesters file civil rights lawsuit against Pasadena alleging police brutality
A group of protesters that got into a scuffle with police outside a lecture by former Mexican president Vicente Fox has filed a federal civil-rights lawsuit against the city and the Police Department.

The complaint alleges that Pasadena police violated the protesters' right to free speech and assembly, and right to be free from unreasonable use of force. The suit further alleges assault, battery and infliction of emotional distress on protesters by at least 10 police officers during the incident at the Pasadena Civic Auditorium in November 2012.

Protester Clarence Smith, 36, of Los Angeles, said he was beaten by the police along with many others around him. Smith said he is a member of the Los Angeles Community Action Network.

'For me it was very traumatic. I have dreams of being beat up by Pasadena police,' Smith said. 'And for what? For a peaceful protest? People have to know what these police are doing to the activist community. … I don't want to be in this city. At least in Los Angeles the police don't beat you like they do in Pasadena. L.A. is one of the worst units out there but Pasadena P.D. is unreal.'
(February 2014)

Deaf Man Allegedly Beaten, Tasered By Police After Trying To Use Sign Language

Jonathan Meister, a deaf and non-verbal resident of Manhattan Beach, Calif., claims that the Hawthorne Police Department discriminated against him when they ignored his American Sign Language communication during a Feb. 2013 encounter, which eventually led to a violent confrontation and Meister's arrest.

Meister, along with the Greater Los Angeles Agency On Deafness (GLAD), filed suit against the City of Hawthorne and the Hawthorne Police department Feb. 12 over the alleged excessive force that left him with bruises and burns all over his body. Meister is suing for unnamed damages, and also wants to compel the police department to better train their officers on how to communicate with a person who is deaf or hard of hearing.
(February 2014)
Philly Black Officials Silent On Police Brutality

Back in 1978, a respected newspaper columnist in in this city blasted local black elected officials for their failure to criticize police brutality – the scourge that ravaged blacks for decades, often with the sanction of white elected officials like then Philadelphia Mayor Frank Rizzo, a former city police commissioner.

"Those black elected officials lack courage," respected journalist Chuck Stone wrote three-decades ago, slamming Philadelphia's four top black officials as servile, betraying their constituents.

During the weeks before publication of Stone's July 18, 1978 news commentary, Philadelphia police had killed two unarmed black men and viciously beat scores of people including a group of black teens attending a party at the home of a Methodist minister.

Now, 36 years later in 2014, Philadelphia black elected officials again face harsh criticism for their failures both to publicly condemn continued police brutality and to utilize their electoral clout to end that festering scourge.
(February 2014)
What is police brutality? Depends on where you live

When can police officers use force, and when is use of force excessive?

Those questions hang in the air after the family of Jonathon Ferrell, an unarmed 24-year-old man shot ten times by Charlotte police officer Randall Kerrick last September — and pronounced dead at the scene — filed a wrongful death lawsuit in civil court on Monday.

There are no hard national standards, no binding state policies, not even a national database that tracks how often, where, and under what circumstances police use deadly force. The result, say scholars, is a free-wheeling space in American law and police policy. The nation's 17,000 law enforcement agencies set their own terms—and when citizens cry foul, the courts spit out wildly inconsistent results.
(January 2014)

Police Brutality Goes Undocumented



(January 2014)

Police accused of brutality as fracking protester is left 'battered and bruised'



A protester at an anti-fracking demonstration in Greater Manchester claims he was left "battered and bruised" after being assaulted by police officers.

Sean O'Donnell, who is known as Kris, shot a video of himself being apparently shoved to the ground by police at the Barton Moss protest camp in Irlam, Salford.

The 44-year-old, an IT consultant from Newcastle who has been living at the camp on and off since before Christmas, was taken to hospital after being arrested on Monday on suspicion of obstructing police near the site, where the energy firm iGas is carrying out exploratory drilling.

He claims he got a black eye, cuts to his cheek and forehead, a broken metatarsal and suspected broken ribs after being shoved "face first" into the Tarmac on Barton Lane.
(January 2014)

New Orleans paper must reveal online commenters' identities

A federal judge has ruled that a New Orleans newspaper must turn over information it has about anonymous commenters as part of an investigation into prosecutorial misconduct in the Danziger Bridge shootings that took place following Hurricane Katrina.

US Magistrate Judge Joseph Wilkinson decided Tuesday in favor of a lawyer for Stacey Jackson, the former New Orleans Affordable Homeownership executive director who has been accused of misusing federal funds before and after Hurricane Katrina for personal benefit. Theft and bribery are among the charges she is facing.

Jackson's lawyer asked the judge to compel NOLA.com, the website of the New Orleans Times-Picayune, to provide the names, addresses, and phone numbers of two commenters who posted disparaging messages on the site about the five New Orleans police officers who were convicted of shooting civilians on a local bridge in the chaos following Hurricane Katrina.
(January 2014)
Backlash Continues Over Kelly Thomas Verdict

Emotions continued to run high in Fullerton on Tuesday, days after two former police officers were found not guilty on all charges in the beating death of a 37-year-old homeless man. At a contentious City Council meeting Tuesday night, dozens of people expressed outrage over the acquittal of Manuel Ramos and Jay Cicinelli, who were accused of causing the death of Kelly Thomas. Charges against a third former officer, Joseph Wolfe, were dropped after the trial of Ramos and Cicinelli.
(January 2014)
Cop Who Shot At Innocent Surfer During Dorner Manhunt Made A 'Reasonable Mistake,' Says DA

David Perdue was initially pulled over in the early morning hours of Feb. 7 as officers were on the lookout for Dorner, the renegade ex-cop who had already killed two people, including the daughter of now-retired LAPD Captain Randal Quan. Perdue was stopped twice on his way to the beach and seconds after he was let go the second time, he was rammed by a Torrance police cruiser that opened fire on his black Honda Ridgeline. Officer Brian McGee fired three shots at close range into Perdue's driver side window. Perdue did not suffer any gunshot wounds, but he did get a concussion from the crash and injured his spine.
(January 2014)
"After sheriff's officials learned The Times had access to the records, they launched a criminal investigation to determine who had leaked them. They also said they would review whether some applicants had been improperly hired. The union representing deputies unsuccessfully tried to get a court order blocking publication of information from the files.

The records provide a rare look into hiring decisions at the nation's largest sheriff's department, an agency dogged in recent years by a string of scandals related to deputy abuse and racially biased policing."
The department's hiring files detail proven and unproven allegations of misconduct based on information from past employers, romantic partners and others. The files also document when applicants were arrested or charged for alleged crimes but not convicted. One new hire had been charged with assault under the color of authority, and another had been arrested for assault with intent to murder and rape.
(December 2013)
A prominent African American judge has filed a complaint against two UCLA police officers, accusing them of using excessive force when they pulled him over for not wearing a seat belt. Los Angeles Superior Court Judge David S. Cunningham III, a former Los Angeles Police Commission president, said the officers shoved him against his car, handcuffed him, locked him in the back of their police cruiser and told him he was being detained for resisting arrest.
(November 2013)
"Since 2008 the city has paid $18.8 million in damages for police shootings and mistakes, an average of $3.1 million annually, according to figures obtained from the city through the California Public Records Act. That doesn't include the Zerby award, which the city is contesting.

Last week (prior to November 23), city police had their 20th officer-involved shooting of the year, well past 2012's nine, each incident another potential lawsuit and damage payout."
(November 2013)